Kamthieng House
the Lanna legacy in Bangkok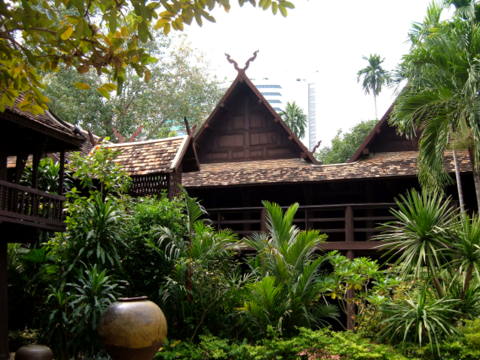 Lanna house with kalae on the gable
Kamthieng House, a traditional Lanna home in the grounds of the Siam Society on Soi Asoke Bangkok, preserves the 700 hundred year old Lanna architecture and culture from Chiang Mai, Northern Thailand
- See more at: http://www.tour-bangkok-legacies.com/kamthieng-house.html#sthash.DLjeNciO.dpuf
The Lanna (a million rice fields) Kingdom,
is an old 13th century kingdom in northern Thailand, started by King Mengrai in 1259 who established his capital in Chiang Mai in 1291.
Captured by the Burmese in 1550s, retaken by King Taksin in 1774, Chiang Mai became a vassal of Thailand until the reign of King Rama V when it came under direct rule.
From this kingdom grew a society with a distinctive culture and language along with its own traditions and customs, rituals and festivals.
The family home on the Ping River
One such Lanna family steeped in these traditions were descendants of a prince from Yunnan in Southern China who migrated to northern Thailand. The matriarch Mae Nai Saed, a great granddaughter of the prince, built the original Kamthieng House in 1848 on the banks of the Ping River in Chiang Mai.
In a matriarchal society, the Lanna women are heads of households, own property and have rights of inheritance. The family home was owned by three generations of descendants, Mae Nai Thip, Mae Kamthieng and Mae Kim Haw who lived in the house till 1963.
The museum is one of the places that Sister Moleff took Elder Moleff on his 76 birthday 14 Nov.
Please enjoy the pictures of the Lanna House below.
Representation of Thai rice village
Kitchen
the large basket was where they stored their rice.
the alter was part of a shrine to the rice goddess
Sister Moleff looking at a collection of bells the cows and oxen wore when out in the fields.
We told our daughters that we would bring back a few recipes - I hope it doesn't come to that
This teak home was brought from it original location in 1963 to become a museum. We walk by here a couple times a week and never knew it was here. the Petersons who are here for 6 months told us about it. Sister Peterson discovered it one day while they were serving a mission here, and you cannot tell it is on the busiest street in Bangkok - which means it is on the busiest street in Thailand.